Britain has allowed its reserves to "dwindle to dangerously low levels," the Commons Defenсe Committee said
The UK's national security is now at risk as it would take Britain at least a decade to rebuild its ammunition stocks given the assistance it has been providing to Ukraine, a new parliamentary report published on Tuesday has found.
According to a document compiled by the Defenсe Committee of the House of Commons, as the Ukraine conflict continues, "it is clear that the UK and its NATO allies have allowed ammunition stockpiles to dwindle to dangerously low levels."
The report noted that while "Russia is also facing the diminution of its stockpiles," other potential adversaries of the UK are able to increase their defense potential.
"This inability to replenish UK stockpiles therefore puts at risk not just our ability to resupply Ukraine but also to counter any threat to our own security," the British MPs warned.
Read more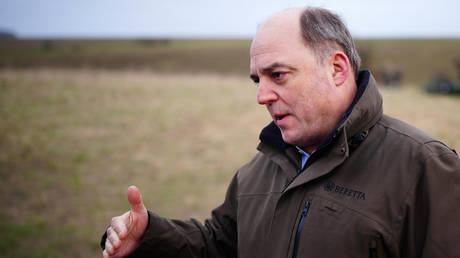 They went on to note that "the manner in which Western governments procure armaments is not fit for purpose," while urging the UK's Ministry of Defenсe to establish an action plan to ramp up national industrial capacity in a bid to reduce the time needed to replenish UK stockpiles.
As things currently stand, the MPs said, it would take at least a decade to restore and then increase to a sustainable level the nation's ammo stocks.
In evidence to the committee, former Head of Joint Forces Command General Richard Barrons also highlighted this problem. He said he would be surprised if Britain had "sufficient munitions to sustain a high intensity conflict for more than about a week."
The country's defense ministry said that it was continuing to "place orders to replace ammunition given to Ukraine" adding that it had allocated an extra £560 million ($673 million) to boost its stockpiles. However, previously Barrons estimated that the British military needed "an immediate annual boost of £3 billion" to support its defense potential.
The report echoes a statement by Secretary of Defence Ben Wallace, who admitted in late January that the British armed forces have been "hollowed out and underfunded." His remarks followed a Sky News report alleging that a top US general had told the minister that British forces are "barely tier two" in terms of fighting capabilities.
These complications, however, did not stop the UK from providing Ukraine with £2.3 billion ($2.76 billion) of military assistance in 2022 alone, second only to the US' contribution.